Despite the already presented newer models from series 8, 9, 10 and 11, Zgemma has an excellent version 7 receiver that interestingly combines different tuners, and at the same time has 4K resolution, and is based on the Enigma2 Linux system.
One of the cases when a newer model does not mean the sunset of a model of the previous series is exactly this one. Although Zgemma has already presented models series 8, 9, 10 and 11, series 7 still has its excellent representative – model Zgemma H7S. The receiver is housed in a black case measuring 260x115x50 mm, and is equipped with combo tuners, where there are two DVB-S2X satellite tuners and one DVB-T2/C terrestrial or cable tuner. This is a great and at the same time rare variant that in one receiver, in addition to a double satellite tuner, there is also a terrestrial one.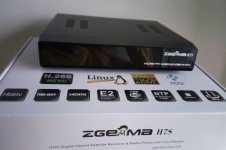 Unlike the smaller housings that Zgemma has been using lately, such as for the H8.2, H9.2H, H9.2S and H11S models, this receiver is housed in a large housing. The receiver has an ARM Brahma 15 processor with 1700 MHz, and it has a BCM7251S chip. The working memory of the receiver is 1 GB (DDR 3), and the flash memory is 4 GB eMMC NAND).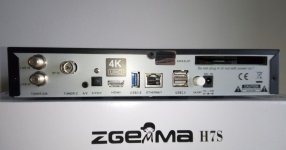 On the front side of the receiver there is a four-part 7-segment blue LED display on the left side with the logo of the manufacturer AirDigital in the same color, while on the right side, under the cover, there is a slot for a card, a slot for a module and a button for turning the receiver on and off. On the back of the receiver there are inputs for 3 tuners (two DVB-S2X tuners and one DVB-T2/C tuner), AV port, S/PDIF port for digital audio output, HDMI port, 3 USB ports (one version 3.0 and two versions 2.0), LAN port, power port, power button and SSD slot.